The AstroMaster 102AZ is a 102 mm aperture telescope from the popular brand Celestron. It's part of the AstroMaster range which also includes some other models we have reviewed like the AstroMaster 70EQ and 70AZ, AstroMaster 76EQ, AstroMaster 90AZ and the two most popular models from this series the AstroMaster 114EQ and AstroMaster 130EQ. We even have a H2H comparison of these last two.
A.I. Scanned Best Price
5 new from $319.35
5 used from $183.75
Free shipping
as of September 23, 2023 10:22 pm
Celestron AstroMaster 102AZ Review Card
Brand -

9.9/10

Optics -

9.3/10

Value -

8/10

Portability -

9.8/10

Mount -

8/10
Summary
A great telescope for both star gazing and terrestrial viewing. The optics are very good and the 102mm aperture is quite large for a refractor. That's reflected in the price though. It's design also helps it score high in terms of portability. The addition of the dew shield not only adds to the nice aesthetics of this telescope but it's very much a must. I say this since this is the type of telescope you would get the best views with during some cold mornings or nights. And I'm talking both celestial and terrestrial. So I would rate this a specialty telescope for someone doing occasional stargazing as well as living somewhere with some great terrestrial viewing opportunities as well and want a top refractor telescope but also wants something easy to move around and also easy to use.
Pros
Easy to setup and use
Very good optics and comes with a dew shield
Very portable
Good images of the Moon, Jupiter, Saturn and any far away terrestrial viewing as well
Cons
Not suited for someone interested mainly in star gazing, since at this price point you can get a different built like a reflector with more power and better optics for that purpose 
What's in the Box
Optical Tube
Two 1.25″ Eyepieces (20mm and 10mm) with a magnification power of 33x and 66x respectively
Finderscope
Erect image diagonal
Starry Night Astronomy Software
Tripod and Mount
Mount
The mount of the AstroMaster 102 is a intuitive and easy to use alt-azimuth mouth with a pan handle. Since this is a telescope aimed towards beginners I believe it's a great choice since it removes complexity in the setup. However the mount and tripod can be upgraded later if needed.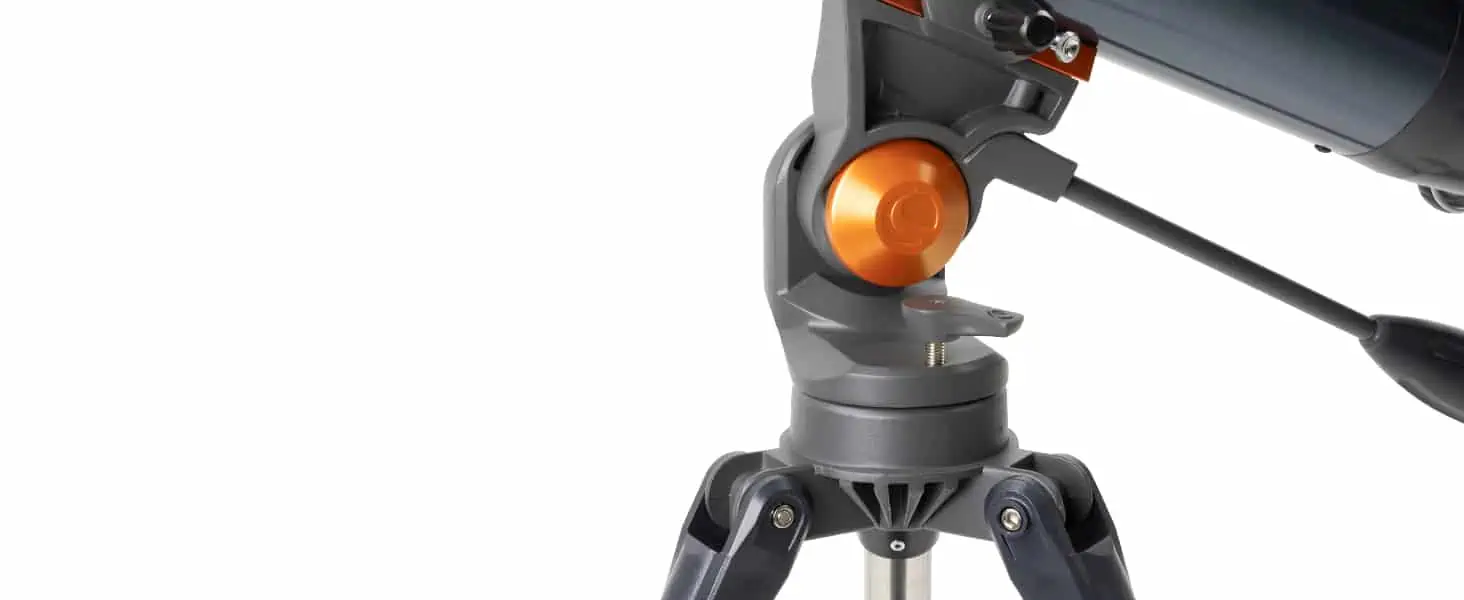 What astronomical objects can I see with the 102AZ?
The 102AZ gathers enough light to be able to capture images of out Moon, Jupiter and it's moons as well as Saturn with it's rings. In fact, this larger aperture refractor is especially good for observing things in our Solar System. Having said that it doesn't mean that it cannot spot astronomical objects like nebulas.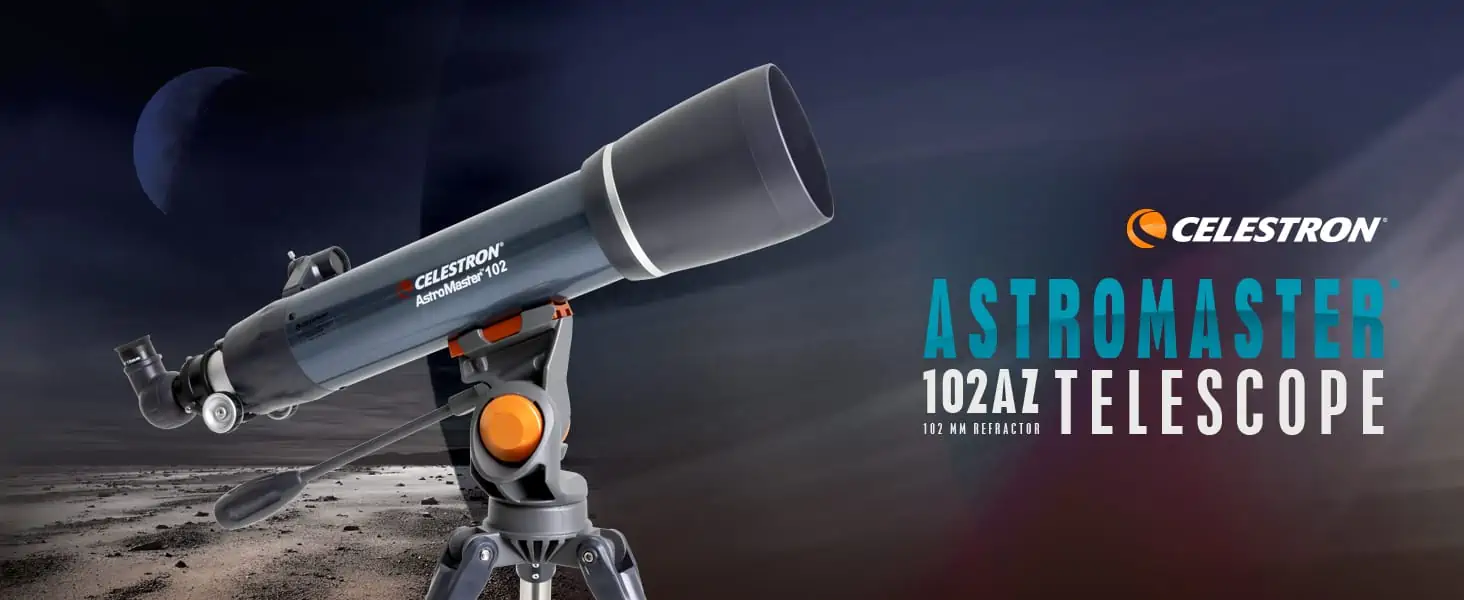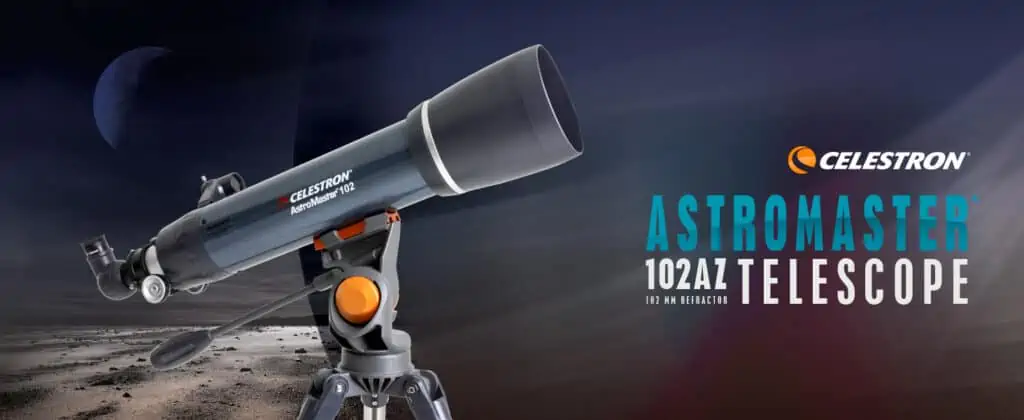 Full Technical Specifications
| | |
| --- | --- |
| Optical Design | Refractor |
| Aperture | 102mm (4″) |
| Focal Length | 660mm (26″) |
| Focal Ratio | f/6.5 |
| Focal Length of Eyepiece 1 | 20mm (.78″) |
| Magnification of Eyepiece 1 | 33x |
| Focal Length of Eyepiece 2 | 10mm (.4″) |
| Magnification of Eyepiece 2 | 66x |
| Barlow Lens | Not Included |
| Finderscope | Built-in Red Dot Finder |
| Star Diagonal | Erect Image, 90° (1.25″) |
| Optical Tube | Aluminum |
| Highest Useful Magnification | 241x |
| Lowest Useful Magnification | 15x |
| Limiting Stellar Magnitude | 12.5 |
| Resolution (Rayleigh) | 1.37 arc seconds |
| Resolution (Dawes) | 1.14 arc seconds |
| Light Gathering Power (Compared to human eye) | 212x |
| Optical Coatings | Fully Coated |
| Optical Tube Length | 711mm (28″) |
| Optical Tube Diameter | TBD |
| Optical Tube Weight | 4.6 lbs (2.08 kg) |
| Dovetail | CG-5 Dovetail bar |