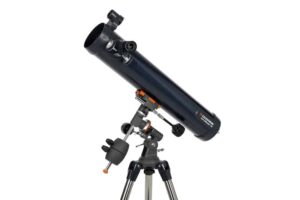 The Celestron AstroMaster 76EQ is a 76mm newtonian reflector telescope with an equatorial mount.
Click here to the latest price and availability
This telescope is part of the AstroMaster series which is a range of telescopes from Celestron that offer all coated glass optics that deliver bright and clear images.
Manufacturer -

9.8/10

Optics -

9.7/10

Value -

9.5/10
The 76EQ package contains the optical tube, equatorial mount, two eyepieces and the SkyX software.
Once you've unpacked the telescope, it's time to assemble it which does not take more than 10-15 minutes and that's if you're a complete beginner. Celestron does a great job at adding pictured step by step instruction for assembling a telescope with an equatorial mount, which might be intimidating at first for some.
The aperture of the telescope isn't as large as some of the other models in this range but it's large enough to bring great images of the moon and planets from our solar system. Also the viewed images are in the correct position as the optics are erect meaning you don't see object upside down. This makes the telescope good for terrestrial viewing as well.
The optical tube is 26in (660mm) which makes it just slightly too large for portability, but it's size does offer an increased stability along with the steel tube legs tripod. And speaking of the tripod it also has a accessory tray for storing all the telescope accessories close at hand.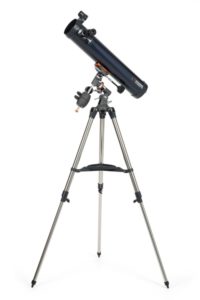 Overall this is a good telescope that has great optics and can offer great images of the near by celestial objects. However unless you buy this telescope when offered with a discount (see link below), we suggest you look towards the other telescopes from this range as you will probably get better value for your money overall.
Click here to check price and availability
The pros of the AstroMaster 76EQ:
Good optics
Equatorial mount
Steady tripod with accessory tray
The cons of the AstroMaster 76EQ:
Difficult to use StarPointer
Full technical specifications:
Optical Design: Newtonian Reflector
Aperture (mm): 76 mm (2.99 in)
Focal Length: 700 mm (28 in)
Focal Ratio: 9.21
Focal Length of Eyepiece 1 (mm): 20 mm (0.79 in)
Magnification of Eyepiece 1: 35 x
Focal Length of Eyepiece 2 (mm): 10 mm (0.39 in)
Magnification of Eyepiece 2: 70 x
Finderscope: Built-on StarPointer
Mount Type: CG-2 Equatorial
Tripod: 1.25″ steel tube legs
Highest Useful Magnification: 180 x
Lowest Useful Magnification: 11 x
Limiting Stellar Magnitude: 11.9
Resolution (Rayleigh): 1.83 arc seconds
Resolution (Dawes): 1.53 arc seconds
Light Gathering Power (Compared to human eye): 118 x
Apparent Field of View: 1.4 °
Linear Field of View (@1000 yds): 75 ft (23 m)
Optical Coatings: Aluminum
Optical Tube Length: 26 in (660 mm)