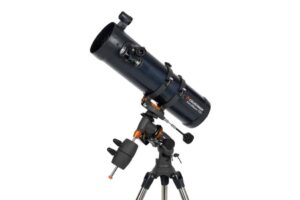 The AstroMaster 130EQ is a 130 mm reflector telescope that's part of the "AstroMaster" family from Celestron. Other AstroMaster telescopes that we have reviewed are the 70EQ Refractor, 114 EQ.
Click here to check a time limited discounted price for the AstroMaster 130EQ
Manufacturer -

9.9/10

Optics -

9.8/10

Value -

9.7/10
Like all AstroMaster telescopes it's a quick and easy setup telescope. It comes with a pre-assembled tripod with 1.25″ steel tube legs and a German Equatorial mount with Setting circles to help accurately locate and track sky objects. The erect image optics make this telescope ideal for both terrestrial and astronomical viewing.
The package also includes the "The Sky" Level 1 planetarium software with was a 10,000 objects database and an accessory tray to conveniently store the accessories. A battery is also included for the finderscope.
It weighs 28 lbs which doesn't make the 130EQ a portable backpacking telescope.
Celestron AstroMaster 130 EQ strong points:
After reviewing this telescope we've come to the conclusion that the equatorial mount and the build-on StarPointer finderscope are the strong points of this telescope which help a lot when you use the telescope for start gazing as well as terrestrial viewing. The all coated glass optics have to be added as a strong point as they add to the clear and crisp images that this telescopes can produce.
Celestron AstroMaster 130 EQ weak points:
The tripod is made out of light steel tubes and at certain times it will not give off a strong sense of being as sturdy as a telescopes tripod should.
The second weak point would have to be it's price point and having it compared with other telescopes the price/value ratio is slightly, just slightly better in favor of other models, but the others don't come with an equatorial mount or finderscopes so here it's just a matter of personal preference and needs.
Celestron AstroMaster 130 EQ Reflector Telescope exact technical specifications:
Optical Design: Reflector
Aperture: 130 mm (5.12 in)
Focal Length: 650 mm (25.59 in)
Focal Ratio: 5
Eyepiece 1: 20 mm (0.79 in)
Magnification 1: 33 x
Eyepiece 2: 10 mm (0.39 in)
Magnification 2: 65 x
Mount: CG-3 Equatorial
Optical Coatings: Aluminum
Weight: 28 lb (12.7 kg)
Finderscope: Built-on StarPointer
Tube Attachment: Dovetail Bar
Star Diagonal:
Tripod: 1.25″ steel tube legs
CD ROM: The Sky L1
Highest Useful Magnification: 307 x
Limiting Stellar Magnitude: 13.1
Resolution (Rayleigh): 1.07 arcsec
Resolution (Dawes): 0.89 arcsec
Light Gathering Power: 345 x
Angular Field of View: 1.5 °
Linear Field of View (@1000 yds): 79 ft (24.08 m)
Optical Tube Length: 24 in (609.6 mm)
Quick Navigation within this page