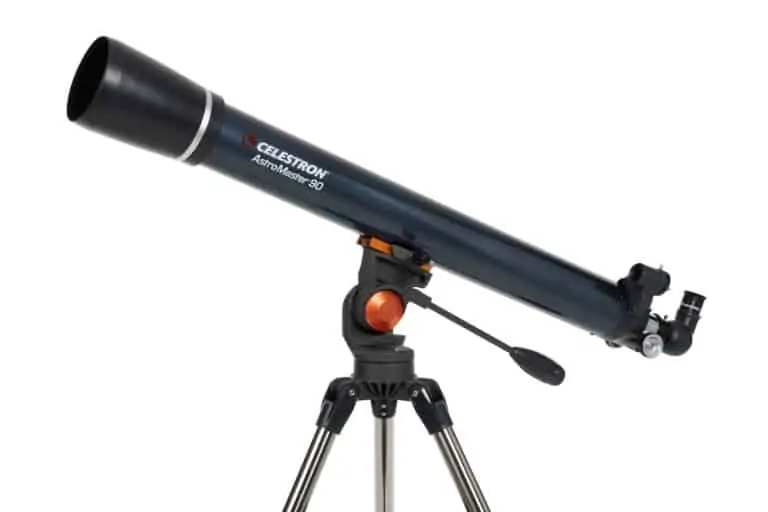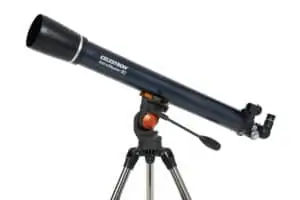 The Celestron AstroMaster 90AZ is a 90mm aperture refractor telescope with an alt-azimuth mount from the Astro Master range from Celestron.
This model is the twin of the 90EQ model from the same AstroMaster range. The only difference between the two being the alt-azimuth mount.
Click here to check the latest price and availability
Manufacturer -

9.9/10

Optics -

9.8/10

Value -

9.4/10
The box contains the following items: the optical tube, altazimuth mount, two eyepieces, tripod and SkyX software.
The optical tube is fairly lengthy making this a hard telescope to take around, but it compensates by delivering great images. It had multi coated optics which deliver fantastic images of the moon and planets. And since this telescope has an erect image diagonal which makes the images appear the right side up this telescope is perfect for terrestrial viewing as well. As mentioned in the review for the 90EQ the StarPointer built on the optical tube does not do this telescope any favors.
The two eyepieces are a 10mm and a 20mm one having a magnification of 100x and 50x respectively.
Should I purchase the AstroMaster 90EQ or the AstroMaster 90AZ: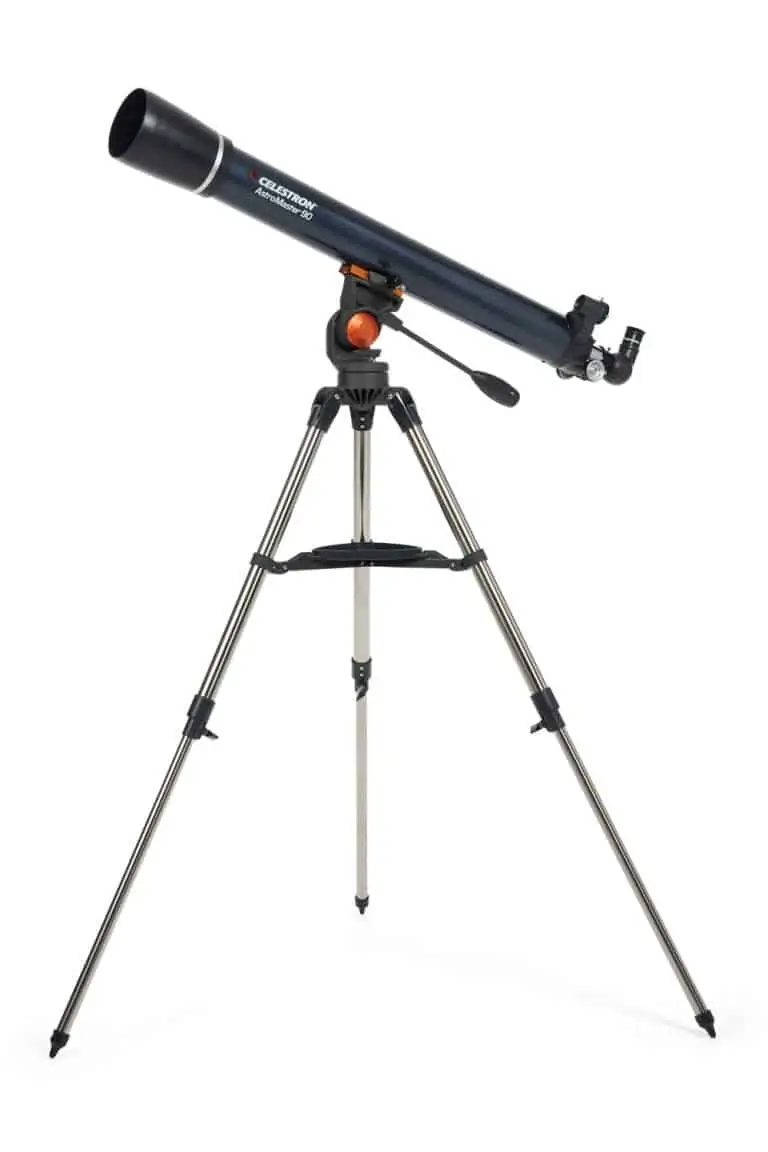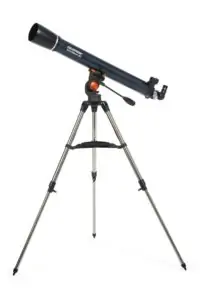 As I've previously mentioned, as far as the optics go these two models are identical. The only difference is the mount and the price. As the 90AZ model had a alt-azimuth mount it's price point is lower. But when making a choice between the two you should not take the price as your main factoring decision. It's more about what you plan of using the telescope for and how often. The equatorial mount on the 90EQ is much more suitable for star gazing as it's easier to track the stellar object as you just need to turn a know once you have located them. However the alt-azimuth is a much more versatile mount and will suit you better if you plan on using this telescope more for terrestrial viewing. How often you will use it may also be a factor as if you plan on using it just from time to time the 90AZ model might be better suited as then you can have a good telescope for star gazing as well as terrestrial viewing and not be that bothered about having to center the image of celestial object every couple of minutes.
Overall this is a very good telescope that is aimed towards the adult beginner astronomer bringing fantastic images of the night sky. If you're planning on using it more for terrestrial viewing than star gazing choose this 90AZ model, if not go for the 90EQ model.
Pros
Great optics
Great images of the moon and planets as well as terrestrial images
Lightweight and relatively portable
Stable tripod
Cons
Not that portable
Low quality finderscope
Full technical specifications:
Optical Design: Refractor
Aperture (mm): 90 mm (3.54 in)
Focal Length: 1000 mm (39 in)
Focal Ratio: 11
Focal Length of Eyepiece 1 (mm): 20 mm (0.79 in)
Magnification of Eyepiece 1: 50 x
Focal Length of Eyepiece 2 (mm): 10 mm (0.39 in)
Magnification of Eyepiece 2: 100 x
Finderscope: Built-on StarPointer
Star Diagonal: Erect Image Diagonal – 1.25″
Mount Type: Altazimuth
Tripod: 1.25″ steel tube legs
Highest Useful Magnification: 213 x
Lowest Useful Magnification: 13 x
Limiting Stellar Magnitude: 12.3
Resolution (Rayleigh): 1.55 arc seconds
Resolution (Dawes): 1.29 arc seconds
Light Gathering Power (Compared to human eye): 165 x
Apparent Field of View: 1 °
Linear Field of View (@1000 yds): 53 ft (16 m)
Optical Coatings: Multi Coated
Optical Tube Length: 36 in (914 mm)
Manufacturer -

9.9/10

Optics -

9.8/10

Value -

9.4/10