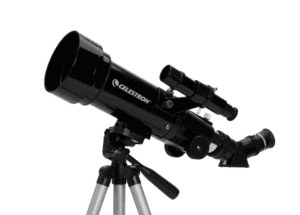 The Celestron 21035/21038 Travel Scope is another great astronomy and terrestrial telescope from Celestron that has portability and ease of use as the main features. It's a compact refractor telescope that is available in two models, the 50mm (the 21038 model) and the 70mm (the 21035 model). Although there is a price difference between the two models, with the 50mm one being obviously slightly cheaper, we've come to the conclusion that the 70mm model is well worth the additional dollars in the price and as the images are much clearer and better overall. In the text that follows we'll be focusing on the 21035 model.
Manufacturer -

9.9/10

Optics -

9/10

Value -

9.4/10
The Celestron travel scope comes with a backpack for both it's models the 50mm and the 70mm one. The backpack is padded and as it's custom created for this telescope, all the components and accessories along with the tripod and the telescope it's self fit perfectly.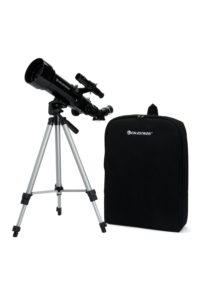 As we've mentioned besides the backpack case the set also includes a full size aluminium photographic tripod which turned out to be very stable (considering the light weight nature of the tripod and telescope which would make it a difficult for the tripod to be as reliable as with other telescopes) and especially useful for taking amazing photos. The other accessories consist of the two eye pieces (20mm one for a 20x magnification and a 10mm one for a 40x maginification) and a 45 degree correct image prism.  And last but not least, Celestron includes a copy of The Sky X software which was contains a database of over 10,000 objects and printable sky maps (which can be very helpful if your new to astronomy).
The Celestron Travel Scope strong points:
Weighing at just 6 lbs (2,7kg) the entire set is very portable and you can take it with you anywhere and expect great optics and views. The backpack fits perfectly and gets full marks. The altazimuth mount ensures an easy and smooth movement which is important not only when tracking object but also when you keep following them (in the case of stellar objects).
The Celestron Travel Scope weak points:
At first there weren't any obvious weak points for this telescope given it's dimensions and price range. We feared that the tripod would be just a too light and not sturdy enough as that can be a problem with even higher priced telescopes, but it did act very well. The thing that could have been improved was the finder scope that gives this telescope a nicer look similar to higher priced telescopes, but overall it's all that useful.
Overview:
This is a pocket rocket telescope that delivers on it's promises having great crystal clear optics and score high on the portability scale. As a first budget telescope this is one of the best options available.
Click here for the best price on this telescope
Quick Navigation within this page