The Celestron Travel Scope 60 DX is a 60mm aperture refractor telescope from Celestron that is part of the Travel Scope family. This series of telescopes from Celestron is aimed at the beginner astronomer that is looking for a telescope with portability as it's main feature. The Celestron Travel Scope 70 DX, Travel Scope 80, Travel Scope 70 and Travel Scope 50 are all part of the same series.
Celestron – 60mm Travel Scope DX
6 new from $79.95

as of December 3, 2022 4:47 am
Features
Celestron 60 DX: A new perspective on nature and the Universe with the ideal day-to-night telescope, Travel Scope 60 DX. This refractor telescope includes a full height tripod and lots of bonus accessories, including a smartphone adapter so you can capture images and video through the eyepiece. It all packs up into a high-quality custom backpack — ready to go wherever your adventures take you. Whether you take it along on your next camping trip or enjoy an impromptu backyard stargazing session
Smartphone Adapter: Create your own images and video of celestial or terrestrial objects with the smartphone adapter. With its light, rigid frame, this accessory allows you to connect any smartphone to your Travel Scope's eyepiece. The additional magnification provided by the eyepiece allows your phone to capture great images of the Moon and planets. This smartphone adapter installs easily by clamping over the top of an eyepiece
Bluetooth Shutter Release: To capture the best image, Celestron has also provided a Bluetooth shutter release that allows you to trigger the camera's shutter on any Android or iOS smartphone remotely, without disturbing the placement of your phone and telescope, for a perfectly steady shot
Manual Alt-Azimuth Telescope: Navigate the sky confidently with Travel Scope 60 DX's intuitive pan handle. The Alt-Az control with clutch allows for smooth tracking and accurate pointing. Like a photographic tripod, you can move the clutch up, down, left, or right to follow your target in the eyepiece
Deluxe Accessories Included: In addition to the smartphone adapter and Bluetooth shutter release, Travel Scope 60 DX includes a full selection of optical accessories, including two eyepieces (20mm and 8mm), an erect image diagonal, a finderscope, and a 3x Barlow lens. The two eyepieces offer different magnifications so you can view your subject at low or high power. The erect image diagonal allows for more comfortable viewing and right-side-up images. A permanently mounted finderscope included
What's in the Box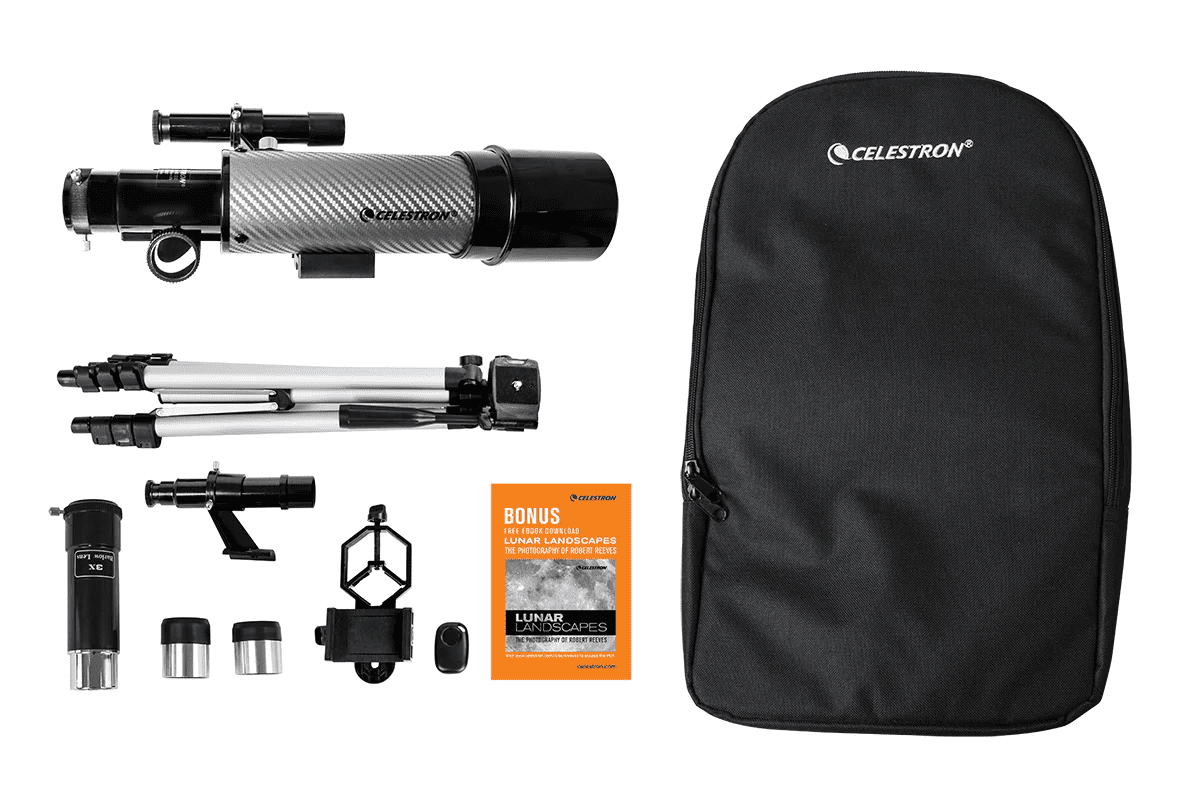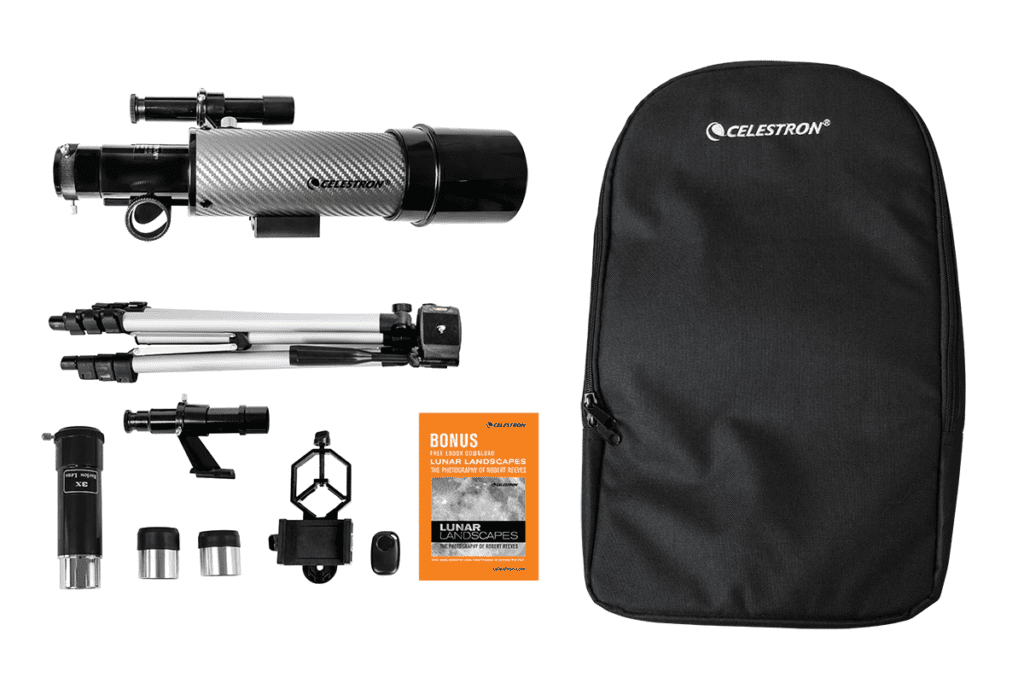 Celestron Travel Scope 60DX Review Card
Portability -

9.9/10

Optics -

9.2/10

Features -

9.5/10
Summary
The Travel Scope 60DX is a nifty little telescope that is a bestseller for a reason. It does what is promises to do. Deliver good quality images of closer celestial objects such as the moon and even Jupiter. It's versatile as you can use it for successfully scoping terrestrial objects as well. And then the backpack and smartphone adapter make this a serious option for anyone looking for a good quality telescope that ranks via in terms of portability.
Pros
Extremely portable
Comes with a backpack
Includes the smartphone adapter for digiscoping
Cons
Does not pack the power to view deep sky objects like Nebulae