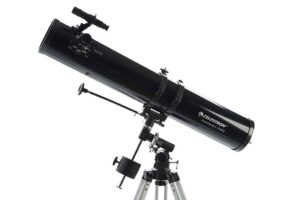 The Celestron PowerSeeker 114EQ is a 114mm aperture newtonian reflector telescope. It's part of the Celestron PowerSeeker EQ range which includes the 127EQ, 60EQ, 70EQ and 80EQ. The telescopes from this range all have the equatorial mount as a common feature.
Click here to check best available price
Manufacturer -

9.9/10

Optics -

9.8/10

Value -

9.6/10
Any telescope with a 114mm aperture is a decent size to be able to produce impressive images of the night sky. Having said that it's also worth noting that given it's capabilities and also it's price point this telescope is an entry level to intermediate telescope and with a few more accessories I could consider it a more than decent telescope even for the more advances astronomer.
The box comes with the following components: the optical tube, finder scope, equatorial mount, 2 eye pieces(20mm, 4mm), 3x barlow lens and the aluminium tripod.
After unpacking the box, the setup was relatively easy and took around 15 minutes, including setting up the mount.
While setting up the telescope every component delivers the overall feeling of high quality with the finderscope and barlow lens being the exceptions as these pieces are made of plastic.
The equatorial mount is a great mount for this telescope, it's easy to use once it's properly set up and the Celestron motor drive is available as an additional purchase. The motor drive helps a lot especially if you want to have a go with taking photos.

Comparison to the PowerSeeker 127EQ
One common question on people's minds in relation to this telescope is how does in compare to the 127EQ from the same range so here are some of my thoughts.
First of all both telescopes are fantastic newtonian reflectors and if you've thinking of choosing either one as a very first telescope, you simply cannot go wrong. The choice between the two comes down to a few differences which you might want to know based on how you will be using the telescope.
The 127EQ has the shorter tube, the lighter weight and the slightly lighter price. The 127EQ however tends to deliver slightly less crisper images as noted by several reviews but as far as I'm concerned the difference is negligible. So if you've looking for a telescope that excels in portability while also delivering great images the 127EQ might be a better choice, if however portability is not an issue and you've just concerned about getting the best images possible for this price point then the 114EQ would be the better option for you.
Click here to check latest price
Optical Design: Newtonian Reflector
Aperture (mm): 114 mm (4.49 in)
Focal Length: 900 mm (35 in)
Focal Ratio: 7.89
Focal Length of Eyepiece 1 (mm): 20 mm (0.79 in)
Magnification of Eyepiece 1: 45 x
Focal Length of Eyepiece 2 (mm): 4 mm (0.16 in)
Magnification of Eyepiece 2: 225 x
Barlow Lens: 3 x
Finderscope: 5×24
Mount Type: German Equatorial
Accessory Tray: No-Tool Tray with Eyepiece holder
Tripod: Aluminum
Highest Useful Magnification: 269 x
Lowest Useful Magnification: 16 x
Limiting Stellar Magnitude: 12.8
Resolution (Rayleigh): 1.22 arc seconds
Resolution (Dawes): 1.02 arc seconds
Light Gathering Power (Compared to human eye): 265 x
Apparent Field of View: 0.9 °
Linear Field of View (@1000 yds): 48 ft (15 m)
Secondary Mirror Obstruction: 1 in (25 mm)
Secondary Mirror Obstruction by Diameter: 22%
Secondary Mirror Obstruction by Area: 4.96%
Optical Coatings: Aluminum
Optical Tube Length: 34 in (864 mm)