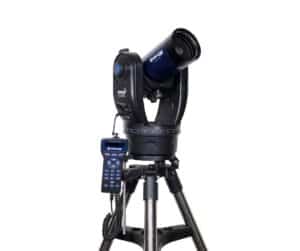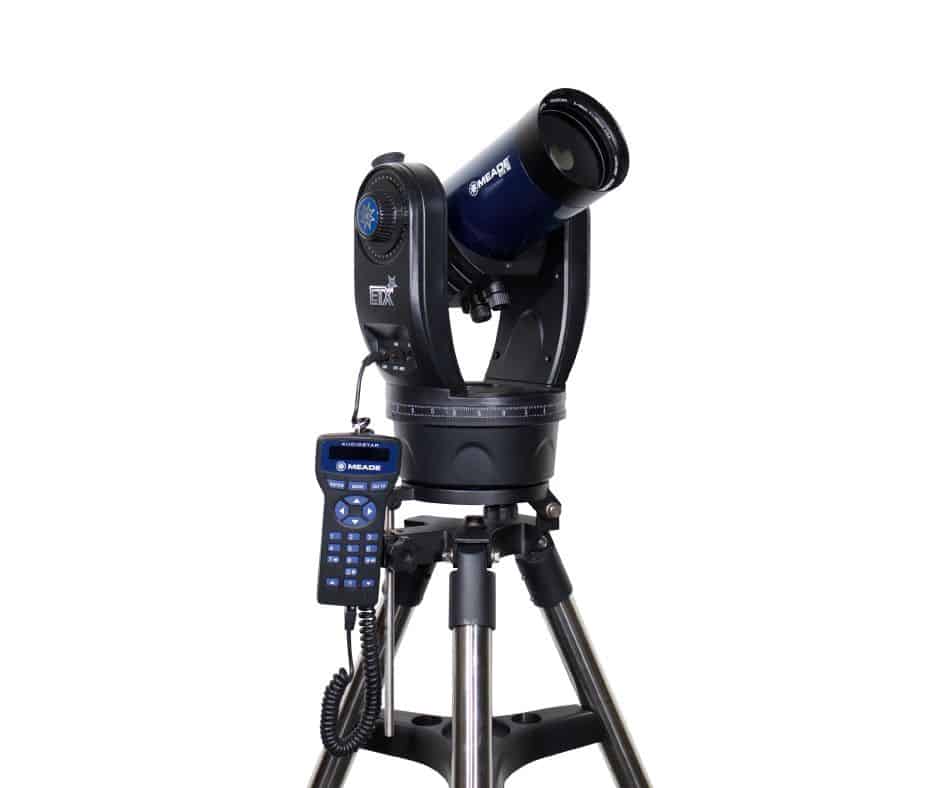 The Meade ETX 90 is computerized Maksutov-Cassegrain telescopes from Meade Instruments with a 90mm aperture and 1250mm focal length (f/13.9). It's part of the ETX Observer range that also includes the ETX 80 and ETX 125 models. 
Click here to check this model on amazon
Compared to the other models in this range the ETX 90 is slightly less powerful than the EXT 125 that has a larger aperture of 125mm and it is also significantly more powerful than the ETX 80 model that does not only have a smaller aperture but is also of a different built namely an achromatic refractor while both the ETX 90 and ETX 125 are Maksutov-Cassegrain. As far as optics go they are top quality thanks to Meade's strict quality control.
This telescope comes packed with features that make it a beginner towards intermediate telescope. You can unbox it and have it ready in under 10 minutes, only using might take a little bit longer. It's a complex telescope but not overly so. Even if you are a complete beginner in the field of astronomy you will find it easy to use once you have set everything up the first time.
This should be an ideal first telescope (or upgrade from a refractor) for anyone looking for a telescope that can produce quality images of the moon and planets as well as have the power for deep-sky objects such as galaxies and nebulae all while being assisted by the GoTo system. 
The Goto system automatically finds and tracks celestial object once everything is set-up. It contains a database of over 30,000+ objects and the best part it that is comes with a so called AudioStar feature which includes over 4 hours of audio content that teaches you about the object you are viewing. You can listen via the hand controller which has a built-in speaker on the back.
Here's what you get in the box:
Optical Tube
Computerized Dual-Fork Mount with Servo Motors
Sturdy Steel tripod with equatorial tilt plate
Bubble level compass
2 1.25

" 9.7mm and 25mm plossl eyepieces

Red-dot viewfinder 
Computer Hand Controller (with the AudioStar feature)
Carrying Case
Tripod Bag
The briefcase type carrying case and a tripod bag which makes it more convenient for travel. It's total weight is around 19lbs (8.5kg) which makes it good for travel but don't regard it as a backpacking telescope because it's a bit too heavy for that. But it is light enough to carry when travelling to avoid light pollution. 
The 90° diagonal and flip mirrors system that we've come accustomed to see in many Meade telescopes also make this an ideal telescope for astrophotography. Basically what that means is that you can flip the mirror to allow access to the camera which can be attached at the end of the optical tube with the right accessories. 
The highest useful magnification for this telescope is 180x.
Meade Instruments 205004 ETX90 Observer Maksutov-Cassegrain Telescope with Tripod, Eyepieces, and Hand Carry Case,Blue
Apeture 90mm / Focal Length 1250mm/ Ratio: F/13.8, Ultra-High Transmission Coatings /Internal Flip Mirror System for dual viewing
Two 1.25" 9.7mm and 26mm Super Plossl Eyepieces / Red-dot viewfinder
Removable optical tube assembly (OTA), allowing the user to take the scope off of the fork mount for customization
Vixen-style dovetail / Dual DC servo motors /Full Size Aluminum Tripod with Accessory Tray, 2 Tier
AudioStar Computer Hand Contriller with 30,000 object data base and 4 hours of presentation
Full technical specifications:
Optical System
Optical Design: Maksutov-Cassegrain
Primary Mirror Diameter: 3.5" (90mm)
Primary Mirror Material: Optical quality glass
Focal Length, Focal Ratio: 1250mm, f/13.8
Optical Coatings: Ultra-High Transmission Coatings (UHTC™)
Resolving Power (arc-seconds): 1.3 arc-seconds
Limiting Visual Stellar Magnitude: 11.7
Viewfinder: Red Dot
Mount
Mount Type: Dual Fork Alt-azimuth
Power: 6 "AA" Cell Batteries or AC Adapter
Battery Life: 20 hours
Tripod: Adjustable-Height Steel Leg Tripod with EQ tilt-plate

Electronics
Controller Hand Box: AudioStar with 30,000 object database

Included Accessories
Eyepieces: Super Plössl 26mm and 9.7mm – 1.25" size
Bubble Level/Compass: Included – 1.25" size
Astronomy Software: Included – for Windows OS
Weight
Telescope: 9.5 lbs.
Tripod: 9.75 lbs
Carry Case: 10 lbs
Manufacturer -

9.9/10

Optics -

9.7/10

Value -

9.7/10