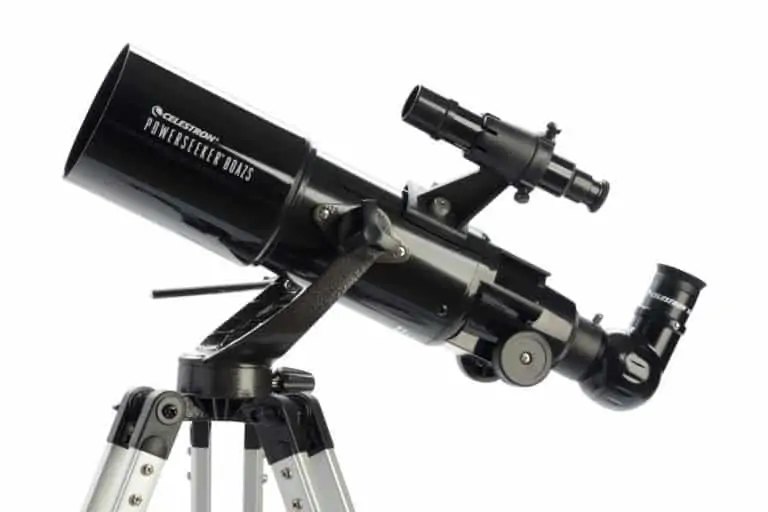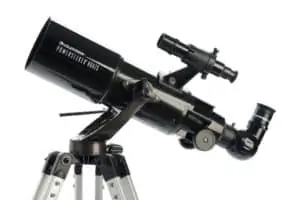 The Celestron PowerSeeker 80AZS is a 80mm aperture refractor telescope. It's the telescope with the largest aperture from AZ Power Seeker range. The 50AZ, 60AZ and 70AZ are the other telescopes from the same Power Seeker range.
Click here to check availability and price
The "AZ" from the name stand for alt-azimuth which represent the mount type of this range of telescopes, and the "S" stand for short as it has a short optical tube.
Manufacturer -

9.9/10

Optics -

9.7/10

Value -

9.7/10
The box contains the optical tube, one 20mm eyepiece, the finderscope, the aluminium tripod with the corresponding accessory tray.
Compared to the other telescopes from this range, while I was unpacking it I was surprised to notice that it has only one eyepiece included, but given it's wider field of view I understood the decision to only include one eye piece.
After unpacking, the assembly process was easy and straight forward and was up and ready for viewing in less than 10 minutes.
The shorter tube along with it's weight does make it a portable telescope. You can fit everything it a backpack and be ready to take it with you. If you plan of using it for viewing terrestrial object it's perfectly fitted for this job as well with correct images.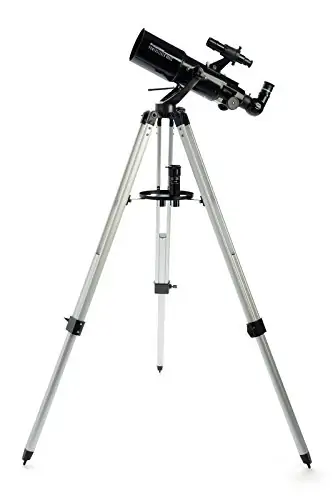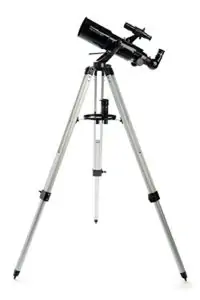 The aluminium tripod is also lightweight and offers more stability than the other models in this range. The accessory tray is great but since no accessories are offered with the telescope, you might not find it useful unless you plan on not using the finder scope and storing it on the accessory tray in order to have all components in one place.
Pros for the Celestron PowerSeeker 80AZS:
It's a nice small and light weight telescope that can deliver some very nice images both of the night sky and terrestrial objects. The alt-azimuth mount is smooth and the focal ratio offers a wide field of view for observing star clusters and nebulae.
Cons for the Celestron PowerSeeker 80AZS:
It comes only with only one eyepiece and no barlow lens which you would expect to receive. The price point might be slightly too high in comparison with what it offers overall, as the other models in the same range offer more value for the price as do other beginner level telescopes.
Full technical specifications:
Optical Design: Refractor
Aperture (mm): 80 mm (3.15 in)
Focal Length: 400 mm (16 in)
Focal Ratio: f/5
Focal Length of Eyepiece 1 (mm): 20 mm (0.79 in)
Finderscope: 5×24
Star Diagonal: Erect Image Diagonal
Mount Type: Altazimuth
Tripod: Aluminum
Tripod Leg Diameter: 1 in
Highest Useful Magnification: 189x
Lowest Useful Magnification: 11x
Limiting Stellar Magnitude: 12
Resolution (Rayleigh): 1.74 arc seconds arc seconds
Resolution (Dawes): 1.45 arc seconds arc seconds
Light Gathering Power (Compared to human eye): 131x
Optical Coatings: Multi-Coated
Manufacturer -

9.9/10

Optics -

9.7/10

Value -

9.7/10