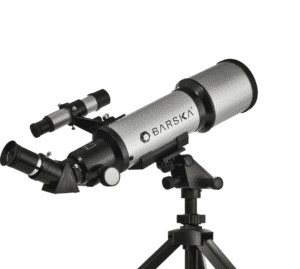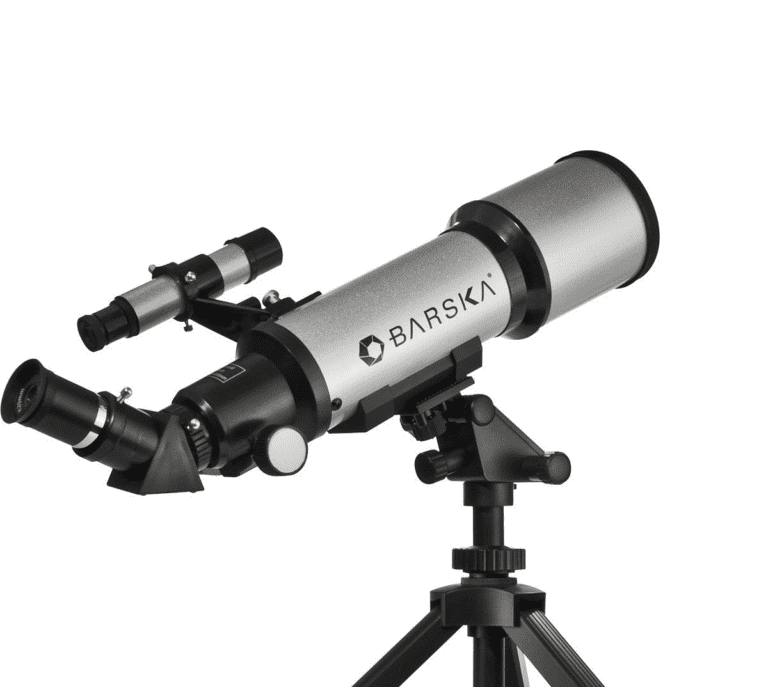 The Starwatcher telescope from BARSKA is a very in interesting beginner refractor 70mm telescope. This is an entry-level telescope that has a correspondent entry-level price point.
Click here to get a discounted price for this telescope
The telescope package comes with a table-top tripod and a soft carrying case along with 3x barlow lenses for versatility and a copy of the Deepsky Astronomy software.
Manufacturer -

9/10

Optics -

8.5/10

Value -

8/10
This is a small telescope weighing just 3.9 lbs (1.8kg) which makes is one of the most light telescopes on the market making it ideal for amateur astronomers that want to discover the night sky.
The optics are more than decent given the price point and the pan head mount was working ok. The finderscope is a nice addition, but you have to do a little bit of adjusting before the first use (it's a simple 5 minute process).
The BARSKA Starwatcher strong points:
It's a small and lightweight telescopes which makes it very portable. With a 70mm objective lens and a 400mm focal point you can get great images with a zoom up to 300x.
The BARSKA Starwatcher weak points:
If you've aiming for a portable telescope and are buying this as a very first telescope there's aren't any weak point to really talk about. The only criticism that can be brought to this telescope might be use of plastic in the build of the tripod and finderscope but it's understandable in order to keep the total cost and weight as down as possible. In comparison the Celestron travelscope comes with an adjustable aluminium tripod.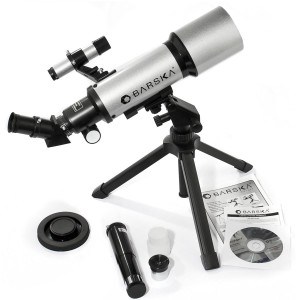 Overview:
An overall good entry-level telescope that can produce good images and will be a good option for the occasional amateur astronomer.
Click here to check out a discounted price for the Starwatched
Quick Navigation within this page