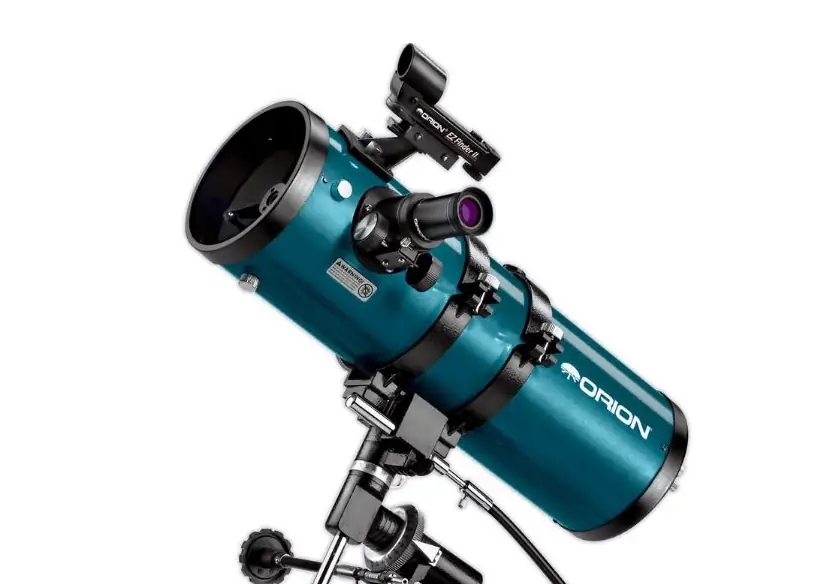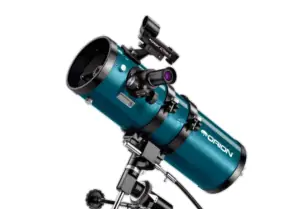 The Orion 09798 StarBlast is a 4.5 in reflector telescope that can deliver a well rounded star gazing experience being a telescope that delivers a lot for it's price tag.
Click here to the latest price and availability
If you're looking for a telescope that has a large enough aperture to get great views of the Moon and planets as well as deeper sky objects and will not break your wallet, then the Orion 09798 StartBlast 4.5in. might be the telescope you are looking for.
Orion Starblast 4.5 EQ Telescope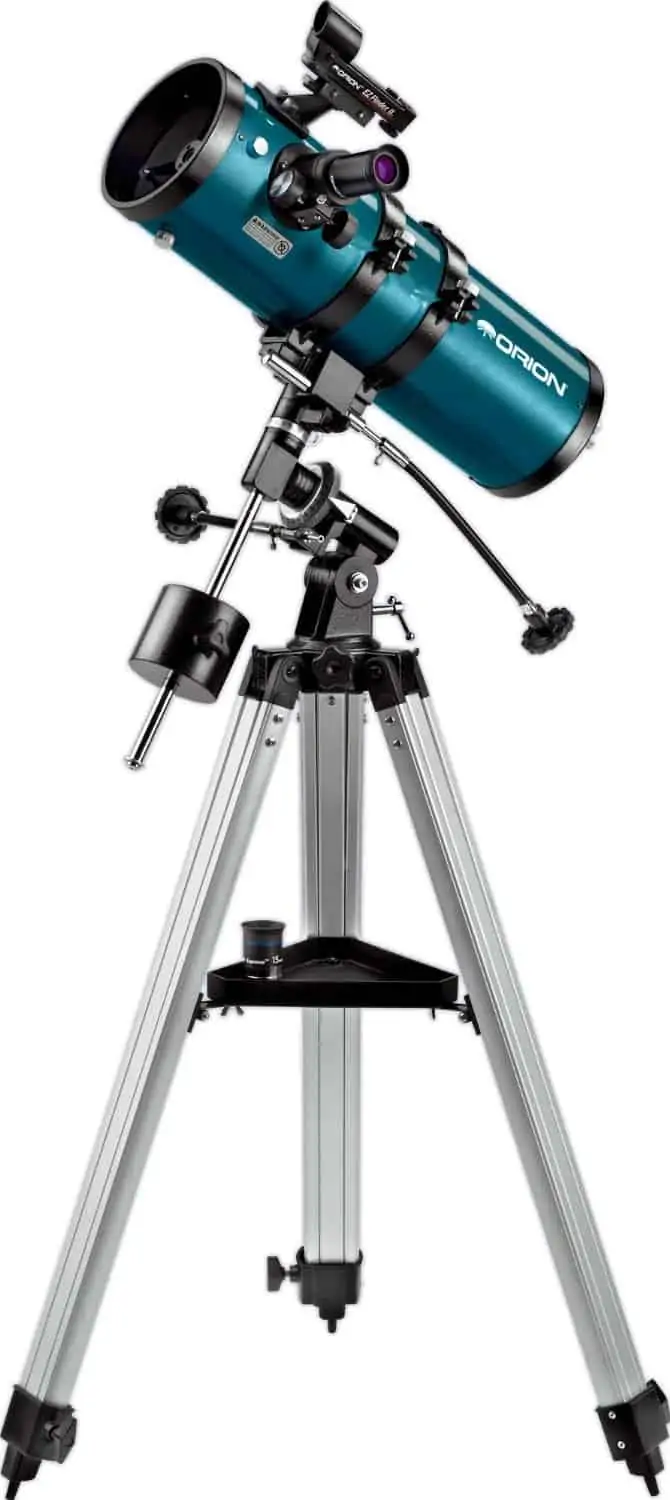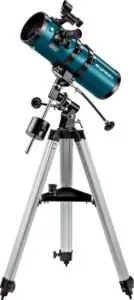 Product Name: Orion 09798 StarBlast 4.5 EQ
Brand: Orion
Manufacturer -

9.7/10

Optics -

8.3/10

Value -

8/10
Summary
An excellent telescope from a trusted company.
Let's take a look at what comes in the box and what are some of the pros and cons of this model.
Firstly the box comes nicely and properly packed for a telescope which is exactly what I want to see. The box contains the optical tube, the finder scope (EZ Finder II), 2 eyepieces, collimation cap, equatorial mount, tripod and a copy of the Starry Night astronomy software.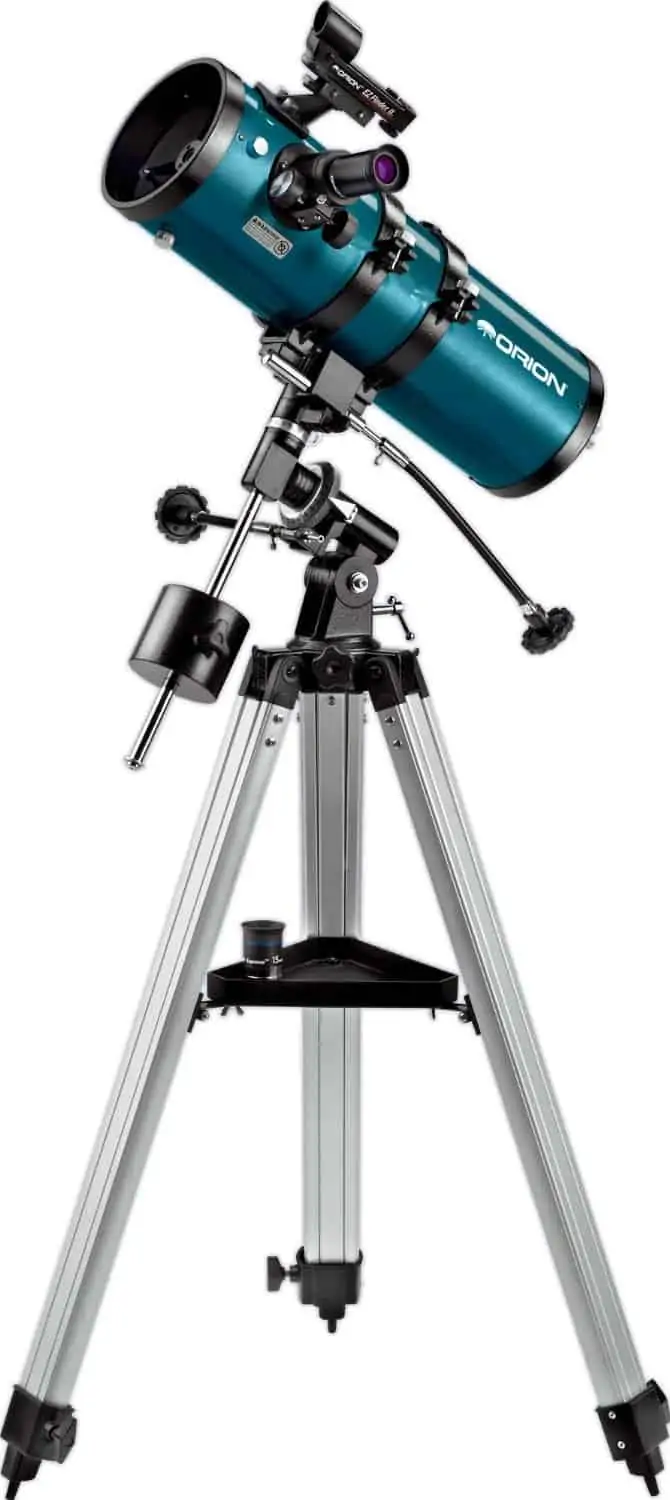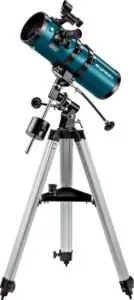 As I've stated before, if you are an absolute beginner and are setting up a telescope with an equatorial mount, it might seem daunting but it's actually very easy. Orion has made sure to include crystal clear setup manual and assembling this telescope took me less than 15 min and even if are a beginner it won't take you more than half an hour. I was also surprised with the total weight of the assembled telescope which makes it a viable option if you are looking to travel with it but then again if you do plan on taking it with you in the greater outdoors there is the aluminium tripod issue but more on that later.
Now let's look at each piece.
The optical tube is of course the most important component and I have to say that the optics are of high quality, as Orion has led us to expect over the years. The focal length is 450mm which gives it a fast focal ratio of f/4.0 and makes this telescope a balanced one when it comes to viewing nearer as well as deeper night sky objects. But it is important to mention that the views of closer celestial object like the Moon and planets are the best ones.
On the optical tube you have the option of setting up the viewfinder which is a Orion EZ Finder II, which despite it's "cheap plastic" appearance it's better than other finder scopes from the same category. Then there are the two eyepieces: a 6mm and a 15mm. The 6mm has a max magnification power of 75x and the 15mm piece has a max magnification of 30x. The eyepieces are of great quality and there is nothing more to add here. I would recommend however that you take a real look at two accessories for this telescope that can bring the overall performance of this telescope for the max. A 1.25in. 2x barlow lens along with a moon filter will bring you much more enjoyment from this telescope. I guarantee you will want these accessories later and the best thing is that both the barlow lens and the moon filter are interchangeable with other telescopes if at one point or another you plan on upgrading. And as far as the optical components go, I was surprised to see a collimation cap included which is something that other higher priced telescopes are missing, and it only goes to show that Orion is indeed looking after their customers.
Then there is the equatorial mount which is simply fantastic. An equatorial mount is exactly what you want for a telescope aimed primarily at celestial viewing (as opposed to terrestrial viewing) as you can smoothly and accurately track the night sky objects once you have located them. This makes star gazing more fun as you get to spend more time viewing instead of centering. Also there is the option on purchasing an optional electronic motor drive which automatically tracks the objects once it has been located.
And as a last component to this package is the aluminium tripod. Often times the tripod is overlooked by beginner astronomers, but it is important especially with the higher priced telescopes. This tripod is fairly good. What that means is that if you plan on using a flat surface like in your back yard you will find it a good tripod. However if you plan on using it of less than flat surfaces like outside the city than you might encounter some minor movement but nothing to disregards it completely. I found the tripod to be troubling only if I use the barlow lens and touch the telescope while on a less than perfect flat surface. As a positive however, the tripod is lightweight (good for transportation) and comes with a accessory tray which make it convenient to store all the accessories in one place and organized while doing your viewing.
Overall I have to rate this telescope as a great option if you're looking for a beginner telescope that you plan on using relatively often and primarily for astronomy. Adding the mentioned barlow lens and moon filter will only make this telescope reach it's full potential.
Click here to check best available price
Pros
High quality optics
Great views of the Moon and planets
Easy tracking with the equatorial mount
Cons
Less sturdy lightweight tripod
Full technical specifications
Best for viewing: Brighter deep sky
Best for imaging: Lunar & planetary
User level: Beginner
Optical design: Reflector
Optical diameter: 114mm
Focal length: 450mm
Focal ratio: f/4.0
Optics type: Parabolic
Glass material: Soda-lime plate
Eyepieces Expanse: 15.0mm,6.0mm (1.25″)
Magnification with included eyepieces: 30x, 75x
Resolving power: 1.02arc*sec
Lowest useful magnification: 16x
Highest useful magnification: 228x
Highest theoretical magnification: 228x
Limiting stellar magnitude: 12.9
Optical quality: Diffraction limited
Finder scope: EZ Finder II
Focuser: 1.25″ Rack-and-pinion
Secondary mirror obstruction: 34mm
Secondary mirror obstruction by diameter: 30%
Secondary mirror obstruction by area: 9%
Mirror coatings/over-coatings: Aluminum & Silicon Dioxide
Mount type: Equatorial
Astro-imaging capability: Lunar & planetary
Dovetail bar system: No
Motor drive compatibility: Clock drive sold separately
Computerized compatibility: Not compatible
Bearing material: Friction bearings
Latitude range: 14-70
Setting circles: Yes
Polar-axis scope: Not available
Counterweights: One 4.8 lb.
Tube material: Steel
Tripod material: Aluminum
Counterweight bar length: 8 in.
Diameter of counterweight shaft: 12mm
Height range of mount: 32.50 in. – 54.75 in.
Length of optical tube: 18.0 in.
Weight, optical tube: 4.0 lbs.
Weight, mount/tripod: 11.9 lbs.
Weight, fully assembled: 20.7 lbs.
Additional included accessories: Collimation cap
Warranty: One year