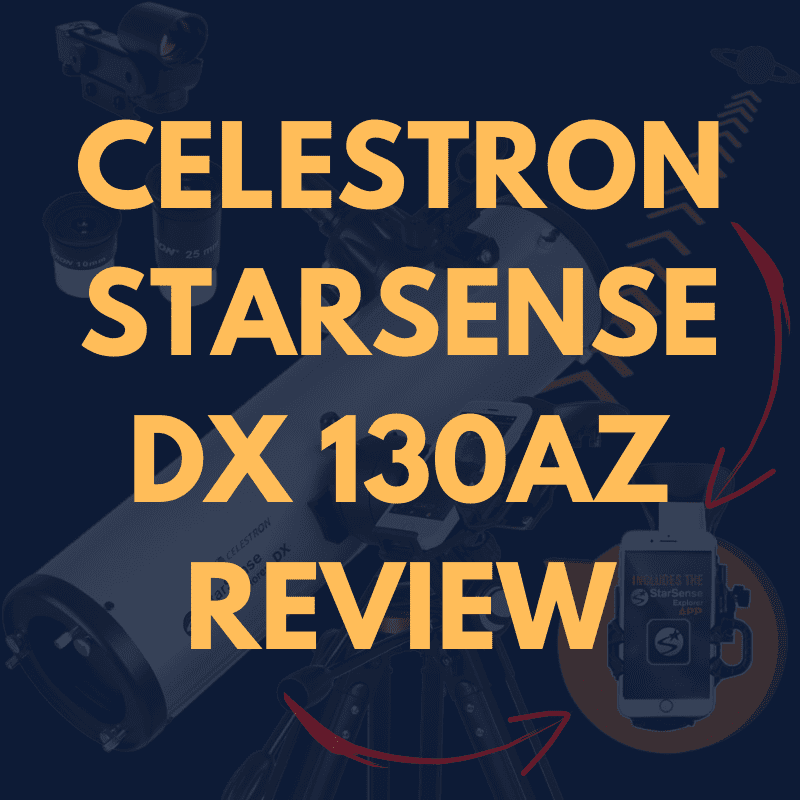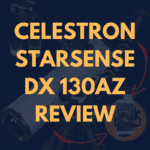 The StarSense Explorer DX 130AZ is a 130mm aperture reflector telescope from Celestron. It's part of their newest series of telescopes with have the name StarSense. This series is all about making the telescope almost one with your iPhone or Android device with the help of the StarSense app. This series also includes the StarSense DX 5″, StarSense DX 100AZ, StarSense LT 80AZ, StarSense LT 114AZ, StarSense DX 130AZ, StarSense 10″ Dobsonian, StarSense 8″ Dobsonian.
11 new from $399.80
Free shipping
as of December 2, 2022 6:14 am
Features
130mm Newtonian Reflector Optical Tube - 25mm Kellner Eyepiece - 10mm Kellner Eyepiece - StarSense Smartphone Dock - Red Dot Finderscope - Altazimuth Mount with Slow Motion Control Rod - Full Height Tripod - Accessory Tray - Original Box
Unleash the power of your smartphone to take you on a guided tour of the night sky-no telescope experience required.
Award-winning and Patent-pending StarSense sky recognition technology uses your smartphone to analyze star patterns overhead and calculate its position in real time.
StarSense Explorer app automatically generates a list of objects currently visible. View planets, brighter nebulae and galaxies, star clusters, and double stars from the city. Or take your telescope to darker skies to view faint, deep sky objects.
Manual altazimuth mount with smooth, dual-axis slow-motion controls makes it easy to follow the on-screen arrows to your desired target. When the bullseye turns green, it's ready to view in the telescope's eyepiece.
Unboxing
One you open the box you will see all the components neatly fitted into 3 other boxes. One contains the optical tube, another the tripod and mount with the accessories and the last one contains the small optics.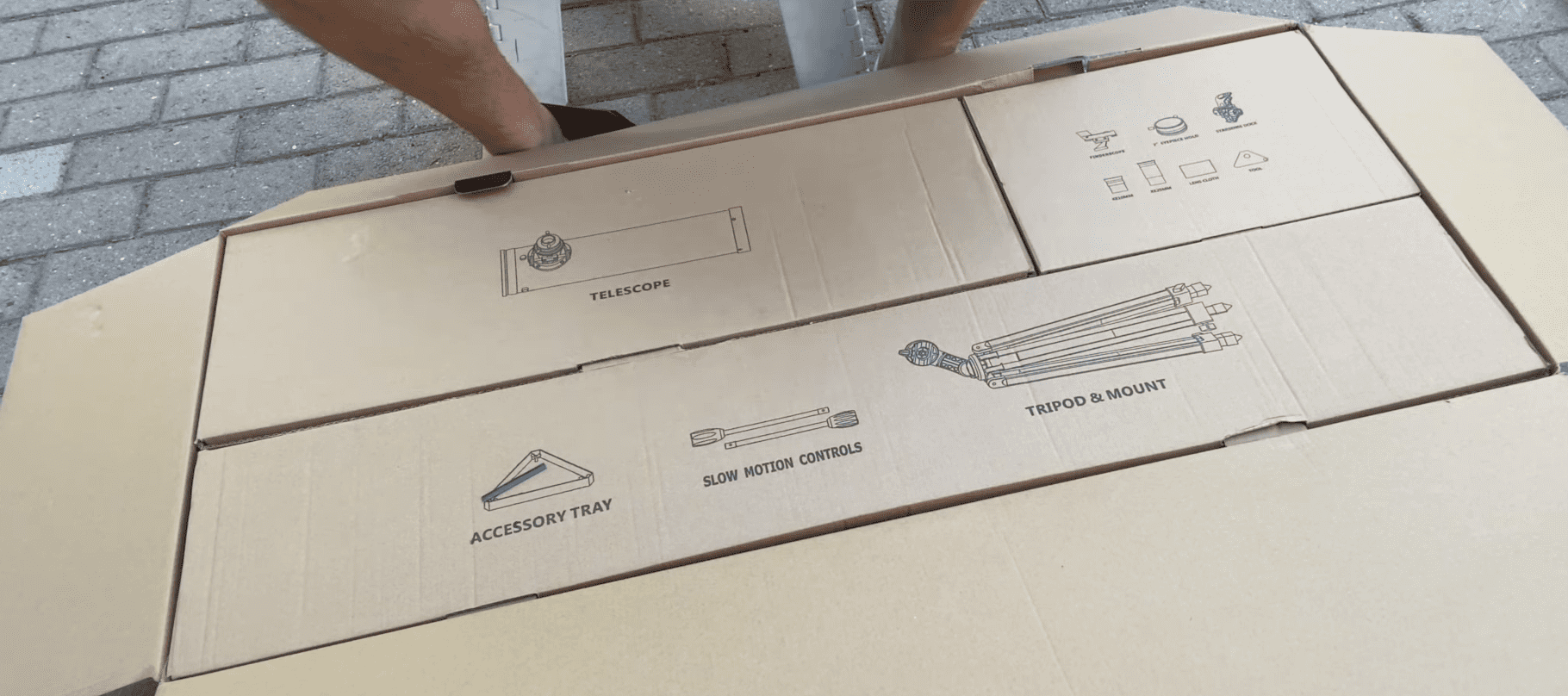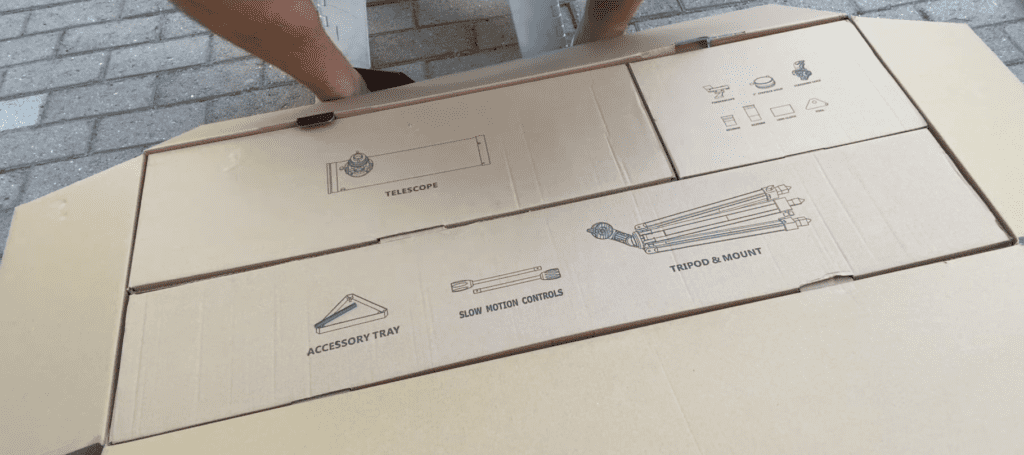 Telescope
The optical telescope is very similar to what we've become accustomed to expect from a company like Celestron. Great optics that you can enjoy a lifetime.
Tripod and Mount
The tripod that comes in the box is a full tripod and is quite sturdy. One thing Celestron needed to get right with this telescope is the tripod and mount. The mount is the place where you will find the smartphone dock as well.
Accessories
The accessories that come with the telescope are the two eyepieces:
25mm Kellner Eyepiece that can offer up to a 26x magnification
10mm Kellner Eyepiece that can offer up to a 65x magnification
Then you also have a red dot finderscope for the times when you want to use the telescope without your phone.
And the last piece in the box, but very important, is the slow motion control rod.
Price
When it comes to the price, the Celestron Star Sense DX 130AZ is decently priced for what it can do.
Portability
Fully assembled everything weights about 18 lb (8kg) so it's somewhat light. Not a travel telescope per se but it can be used if travelling by car since everything is compacted and the set-up takes minutes. Not that suitable for backpacking though.
Technical Specifications:
| Attributes | |
| --- | --- |
| Optical Design | Newtonian Reflector |
| Aperture | 130mm |
| Focal Length | 650mm |
| Focal Ratio | f/5 |
| Limiting Magnitude | 13.1 |
Manufacturer -

9.8/10

Optics -

9.5/10

Value -

9.6/10