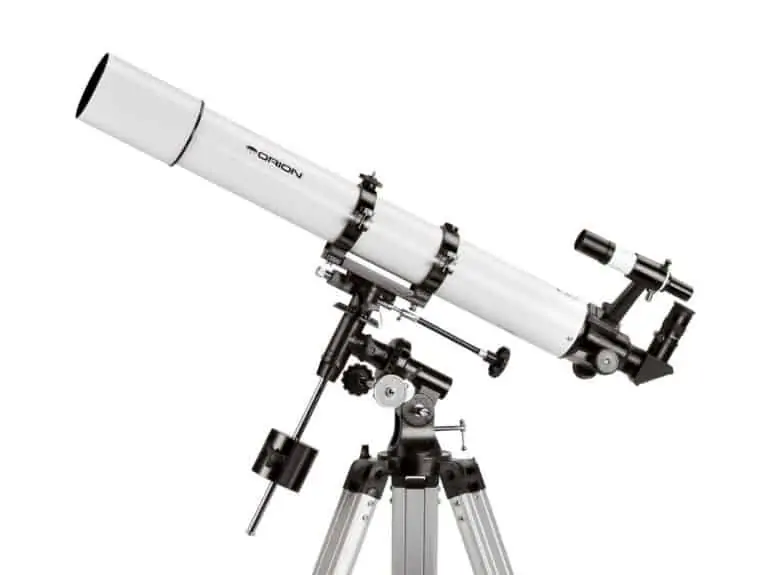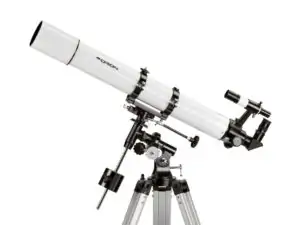 The Orion 9024 AstroView is a refractor telescope with a 90mm aperture and that comes with an equatorial mount, making it a prime option for any amateur astronomer that is looking to buy his first telescope or want to upgrade to a more capable one.
Click here to check current availability and discount
Orion is know for making some of the best telescopes on the market, so when I received this telescope to check it out I knew I would get to test out a very good telescope.
Orion 9024 AstroView
Manufacturer -

9.9/10

Optics -

9.8/10

Value -

9.5/10
Summary
The Orion 9024 AstroView is a refractor telescope that is the ideal option for a beginner astronomer. 
Pros
Great optics
Spectacular views of the moon and planets
Quality components
Equatorial mount that makes it easy to track object as they transit on the night sky
Can also be used for terrestrial viewing
The box comes with the following items: the optical tube, 2 eyepieces (10mm and 25mm), finderscope, 90º mirror star diagonal , tripod, the equatorial mount with it's components and the Starry Night astronomy software.
Once you've done the unpacking it's time to get started and assemble the telescope. This is a relatively easy process which does take around 10-15 minute but should not pose any problems even to a beginner. The instructions that come with the telescope are simple and easy to follow. I believe this is important to mention since some beginners might be intimidated at first by the equatorial mount, but if you're buying this telescope primarily for star gazing than the equatorial mount is in fact the preferred option and you should know that setting up such a telescope is a simple task.
The optical tube has a 90mm aperture and a focal length of 910mm, specifications that make this telescope best suited for viewing the moon, the planets and binary stars. That does not mean that deeper sky objects are out of the question, but give the field of view and relative power of the telescope the best images you will be able to view are those of closer celestial objects. And the images are indeed crisp and clear which is exactly what you would want from a beginner telescope. I guarantee that if you're looking at this telescope as your first astronomy telescope, the views of the Moon, Jupiter, Saturn and other planets will simply be stunning.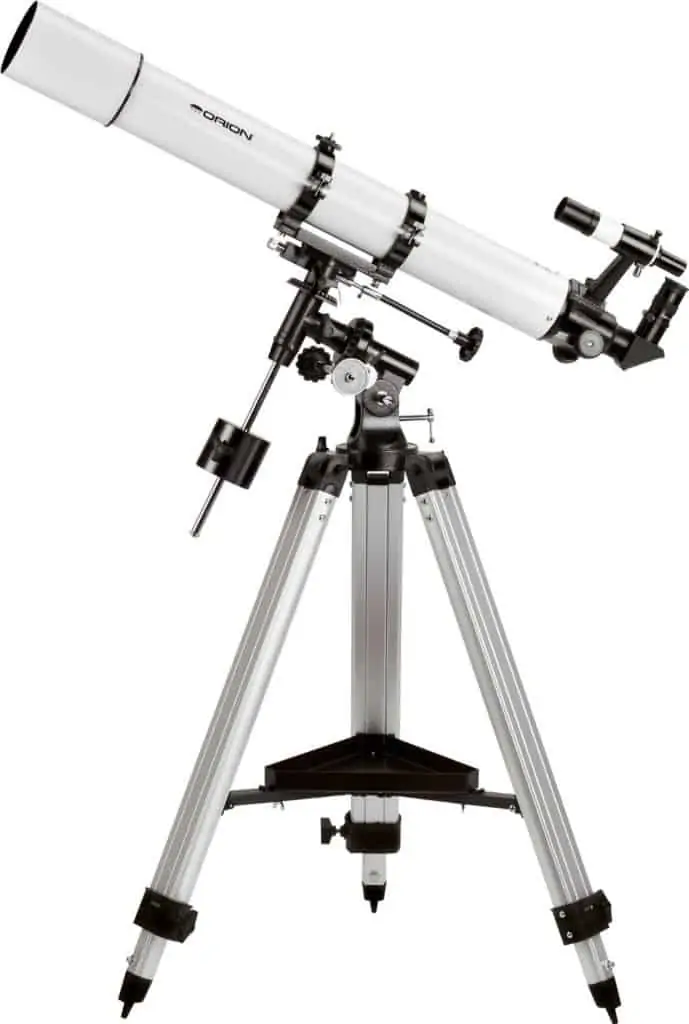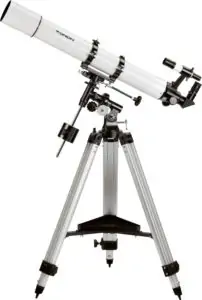 On the optical tube there is also the viewfinder which makes it easier to spot celestial object on the sky. Other telescopes tend to include a viewfinder that it's that good, but Orion has equipped the 9024 AstroView with a viewfinder that does the job well.
The two eyepieces included are a 25mm and a 10mm one which offer a magnification power of 36x and 91x respectively. The eyepieces are of good quality and the package also contains a 90º mirror star diagonal which means you will see the images with the correct side up.
The equatorial mount is the perfect option for astronomy as the main feature of the equatorial mount is that fact that you can easily track the celestial objects as they transition through the night sky. Basically once you have located an object on the night sky, you can keep it in your field of view by simply turning a knob. The tracking is smooth and accurate.
One thing that can be pointed out here as a weak point for this telescope is the aluminium tripod. A steel tube tripod tends to be more sturdy and a better option, but depending on where you will plant the legs of this tripod you will find that it is sturdy enough. The tripod also has an accessory tray for easily storing all the different accessories close at hand.
And as a last bonus to the entire package is the Starry Night astronomy software which I'm sure any new to intermediate astronomer will find useful.
Overall this is one of the best beginner astronomy telescopes, providing some of the best optics and images for night sky objects that are easy to find and track and bring the most excitement to an amateur astronomer who is just starting out or want to widen his field if view. I highly recommend this telescope if you want to have on of the best telescope that will last you a lifetime.
Click here to check current availability and discount
Full technical specifications:
Optical design: Refractor
Optical diameter: 90mm
Finder scope lens diameter: 30mm
Focal length: 910mm
Focal ratio: f/10.1
Coatings: Multi-coated
Optics type: Air-spaced doublet
Glass material: Crown/Flint
Eyepieces: Sirius Plossl 25.0mm,10.0mm (1.25″)
Magnification with included eyepieces: 36x, 91x
Resolving power: 1.29arc*sec
Lowest useful magnification: 13x
Highest useful magnification: 180x
Highest theoretical magnification: 180x
Limiting stellar magnitude: 12.5
Optical quality: Diffraction limited
Finder scope: 6×30
Focuser: 1.25″ Rack-and-pinion
Diagonal degrees: 1.25″ 90° Mirror Star
Mount type: Equatorial
Astro-imaging capability: Lunar & planetary
Dovetail bar system: No
Motor drive compatibility: Clock drive sold separately
Computerized compatibility: Not compatible
Bearing material: Friction bearings
Latitude range: 16-72
Setting circles: Yes
Polar-axis scope: Not available
Counterweights One: 4.8 lb.
Tube material: Aluminum
Tripod material: Aluminum
Counterweight bar length: 8 in.
Diameter of counterweight shaft: 12mm
Height range of mount: 35.00 in. – 55.50 in.
Length of optical tube: 35.5 in.
Weight, optical tube: 5.0 lbs.
Weight, mount/tripod: 12.0 lbs.
Weight, fully assembled: 23.7 lbs.
Warranty: One year
Orion 9024 AstroView
Manufacturer -

9.9/10

Optics -

9.8/10

Value -

9.5/10
Summary
The Orion 9024 AstroView is a refractor telescope that is the ideal option for a beginner astronomer. 
Pros
Great optics
Spectacular views of the moon and planets
Quality components
Equatorial mount that makes it easy to track object as they transit on the night sky
Can also be used for terrestrial viewing